This is my second attempt at writing about a subject that I find very difficult.
The summary is that my company, Coriolis Systems is not doing so well. That's not to say that we're going anywhere any time soon, but the fact is that as SSDs have become more prevalent, there's less and less need for our existing products.
This is particularly true for iDefrag, our best-selling product and the one that generates most of the company's revenue. There's usually no need to defragment SSDs.
The situation hasn't been helped by the rise of the Mac App Store, from which all of our current products and even one or two of those we have under development are barred because they need low-level access to the system. New users who want software are very likely to use the App Store to find it, and we can't be in there. On the other hand, products with misleading names like "Disk Doctor" appear to be very much welcome (it's in "Top Paid", and it very definitely is not a disk repair tool, which is what its name implies it should be).
To help illustrate, here's a graph showing our sales, month on month, from when the company started to the end of the last financial year.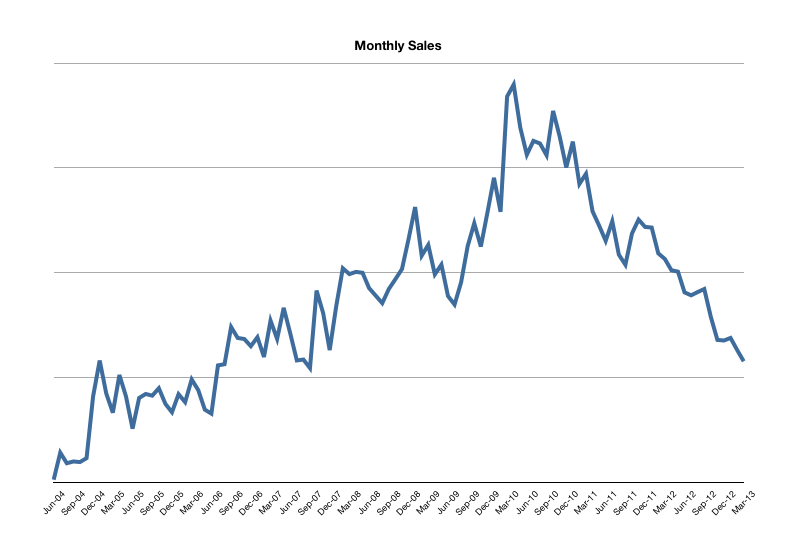 The result of this is that, at the end of this month, I'm having to make two of my staff, Ed Warrick and James Snook, redundant, and we're also leaving the office premises we've been using for the past five years. Ed and James are really good guys and it's a real blow to lose them; you'd be a fool not to hire either of them, quite frankly.